Are you a small business with no room for your stock,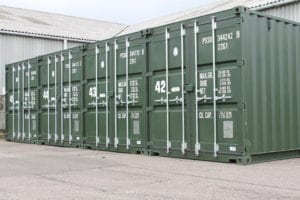 or wasting your costly premium rated space for storage? Are you a householder looking for extra space or needing to put your home into household storage for a while? We provide clean and secure self-storage to rent, covering St Neots, Huntingdon, Bedford and beyond.
Here in brief, are the self-storage solution questions you need answered!
How does secure self-storage work?
You rent a container storage unit from us for as long as you wish. Our minimum rental period is only one month and our no-frills contract is simple and easy to understand. Once signed up all you need to do is fill your storage container.
How much space will I get?
Our container storage units measure D20′, H8′,W8′ and are ideal for the household or small business customer. For large furniture items including 3-piece suites and beds we recommend a furniture storage container. All our container storage is at ground level for ease of access. We offer a pallet stock drop service for small businesses, reducing stock transfer to and from your business premises, saving you time and reducing expensive fuel costs. We'll even rack out your storage container free of charge if it's helpful to you!
Is it clean?
All storage containers are located within our clean yard on hard-standing and are checked between rentals. You will have no muddy fields to negotiate.
Where are you based?
Our warehouse is situated just outside of St Neots, with easy access to the A14 and A1, making us convenient when travelling from Hertfordshire, Bedfordshire and Cambridge.
How secure is my property?
Self-store storage containers are located in our secure yard where security is provided by our professionally installed, maintained and monitored state-of-the-art Security Alarm System, backed up by fully recorded CCTV. You provide your own secure padlock (50 mm) for your self-storage container ensuring no one has access to your property.
How should I pack my goods?
When using container storage, we recommend you pack your property in sturdy containers with lids. For ease of locating individual items, clear plastic storage containers are advisable if you plan to access your property regularly. Packing containers are available to buy or rent on request.
When can I have access to my secure self-storage container?
You have completely free access during office hours to your secure storage container. Our professional, friendly staff are on site throughout these times.
Do I need to insure my property?
The choice is yours. We store your goods under the UKWA conditions and recommend you either contact your current home contents insurer or purchase self-store insurance for your property whilst it is stored. We suggest you consider 'insurance for self-storage' and look for companies specialising in self-storage insurance.
Contact our sales team today on 01480 215555 to discuss your self-storage rent requirements. Our warehouse is easily accessed from Hertfordshire, Bedfordshire and Cambridge.
EYNESBURY WAREHOUSING – FIRST CLASS STORAGE SOLUTIONS AT A SENSIBLE PRICE!